As I write this, like most everyone else in America, I'm sitting at my ostensible "desk" here at home, knocking out the tasks of the day remotely. I find myself actually working longer hours at this desk – the daily distractions of the "normal" office aren't there. There's nobody in the adjacent offices to wish a good day to, no one to grab coffee with to discuss projects, and, most distressingly, no one coming by to tell me that " there're breakfast burritos in the kitchen". The absence of those daily diversions has turned me into a workaholic. I need those types of distractions – They're a vital part of my day. I DO NOT need the ones I'm being handed.
History-making-events – distractions – are occurring daily.  Daily.  And this week did not disappoint.   For the first time in the history of this planet, oil prices went negative.  The New York Times called it "A mind-bending distortion" that "surpasses anything seen in most people's lifetimes".  I can't think of a better way of describing it – I work for an oil company, and I watched in real-time as the benchmark price for crude oil dropped from around $15/bbl to a -$38.17/bbl.  This IS a mind-bending historical event unfolding before our eyes.  Just after WWII, the February 1946 price-per-barrel, adjusted for inflation, was $16.68/bbl.  The next low didn't occur until November of 1998 at $17.66/bbl.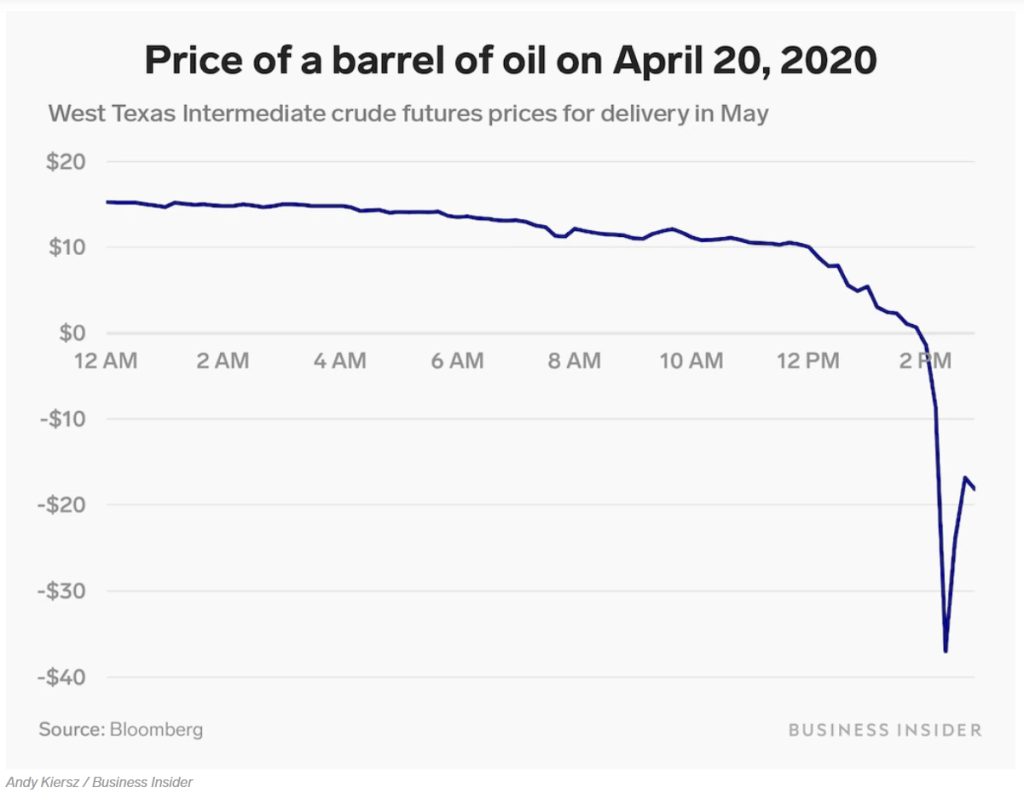 So what does a negative price mean? Will producers pay us to take oil? In short, yes – if you have a place to put it – lots and lots of it. But – trust me – you don't. Just about every nook and cranny that could hold oil in America is filled to the brim. HEY – STOP THINKING ABOUT YOUR POOL. Summer is coming up. Even if you could fill your pool with oil, your kids would murder you for it and dance upon on your grave singing hallelujah. Trust me, I already called my HOA and it's NOT an option.
In reality, the price everyone is seeing is the "future price" that oil is traded on. Yesterday was the day the May contracts expired – so traders who bought futures during the month of April (for May delivery) were desperate to sell off their contracts. Nobody has anywhere to store oil – the average trader doesn't have a pool big enough to store it, much less an HOA amenable to allow it. Regardless – the price won't stay negative for long.
What's likely to happen – or I should say, what MUST happen – is for producers to curtail production or simply put it on hold. Ultimately, producers within the oil & gas market will have to adjust production to meet demand. For the US, that means that the producers with the lowest operating-cost-per-barrel will be in the best position to weather the low prices. So, in short, low OPEX is the key to survival. What that will mean to us – the workers – varies from job to job. I can't imagine that it means anything at all to an automation professional. Only an idiot would lay off their most scarce human resource. Industry has been operating at a Subject Matter Expert deficit in our field for over 20 years. But still – for some of us, it may mean lower income or the unemployment line – but I believe only for a time.
When my wife asked me what the negative price meant for us, I replied tongue-in-cheek, "I guess it means we have to start paying the company to let me work there instead of the other way around". She knows my personality, so she knows when I'm being hyperbolic for a laugh. But she understood the message under the levity: We need to continue to cut expenses. And she knows that way before the events of this week, my mission at work changed from being an Automation Advisor and Project Manager to leading teams to find ways to cut operating expenses, or OPEX. More specifically, my teams are charged with finding ways to cut energy costs in the short, intermediate, and long term. My colleagues and I are literally fighting for the survival of our company. But even in the face of negative oil prices, I'm confident that we will be successful, that this will all turn around, and we'll survive.
And so will you.
When I was reminded that it was time to write something for our newsletter, the task, just for an instant, just seemed like a welcome distraction. But I immediately felt compelled to at least say something, however trite it may seem on the surface – so here goes:
Stay the course.  Don't let the "off-the-chart-wacky" events happening in the world derail you from focusing on your job – steel yourself and get the work done.  This will all work itself out and there'll be breakfast burritos in your kitchen before you know it.